Eye Care Awareness Week 2010 was held from 11-16 October 2010. This was made possible with Jonga Trust partnering with the Department of Health, Lions International Service Organisation, Transitions Optical, Liquid Lingo communications, Alcon Laboratories, Pick 'n Pay, Ster Kinekor and the South African Broadcasting Corporation (SABC).
The Eye Care Awareness Week consisted of a series of Eye care and Eye health awareness campaigns with newspapers, radio and television and also eye care services, mainly in the form of providing eye tests and prescription glasses to indigent people at no cost to them.
Numerous newspaper articles were printed, promoting eye health during the week and radio interviews were done discussing eye health and the role of Jonga Trust. An interview with one of the Jonga Trustees, Charl Laäs, discussing eye health was also aired on national television during a breakfast show.
Prior to Eye Care Awareness Week, learners from various schools in the Cape Metropole were pre-screened by School Health nurses and schools in Malmesbury and surrounds (outside the Cape Metropole) were screened by Jonga Trust's Community Based Eye Care Workers. Once this was done, optometrists went to the schools to refract the learners flagged and the spectacles were then made up.
During Eye Care Awareness week various 'Eye Care Camp Days' were held. During three Eye Care Camp days, held on the 12, 13 and 15th of October 2010 the learners tested prior to Eye Care Awareness week received and had their spectacles fitted. They were then entertained by an educational show by both the bird- or snake-man promoting animal conservation and Jonga Trust promoting eye health.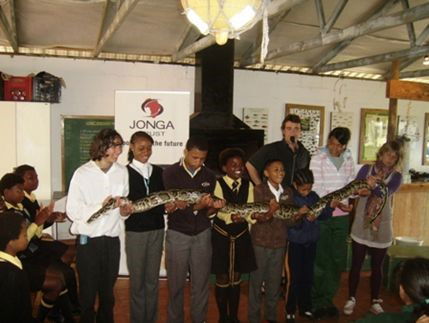 They were them served a wholesome lunch donated by Pick 'n Pay and then had a treasure hunt to end the day's activities.
Another program was held in conjunction with Ster Kinekor Mission Vision in Malmesbury on the 14th October 2010. During the day the learners were bussed to a central location in Malmesbury were Ster Kinekor had set up a mobile movie theatre. The learners were then given their spectacles, a box of popcorn and juice, a Ster Kinekor t-shirt, pen, pencil bag and bracelet all compliments of Ster Kinekor (Prime Media). Once everyone was settled with their new spectacles they were treated to a complimentary movie, Toy Story 3, which for most of the children was a first experience.
A wellness day was also held at the Mfuleni Community Centre on the 16th October 2010. Members of the Mfuleni community had their eyes screened by Jonga Trust's Community Based Eye Care Workers. Those having refractive errors needing refraction and those with eye pathology were then referred to their Community Health Centre for further treatment and next level of care.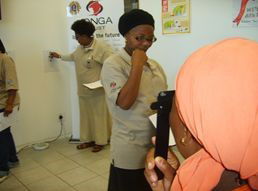 Jonga Trust Community based worker screening at the Mfuleni community outreach day October 2010.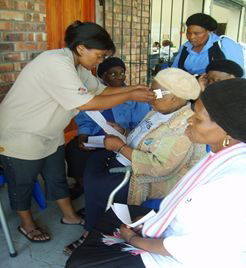 Jonga Trust community based worker testing near vision in a presbyopic client.