It proved difficult for the community based eye workers to do near vision testing in high volume, so the professional staff at Jonga Trust developed a near vision testing kit with various near vision power spectacles which aids clients to quickly and easily determine their correct reader for their specific focusing distance.
The near vision reading chart proved to be a challenge due to all the official languages in South Africa. The languages of choice in the Western Cape Province are generally English, Afrikaans and Xhosa. To further improve the near vision testing process, Jonga Trust had the Jagger Near vision Test translated from English into Afrikaans and Xhosa. All tree Jagger Near Vision Charts in English, Afrikaans and Xhosa is included in the Jonga Trust Presbyopic Vision testing Kit.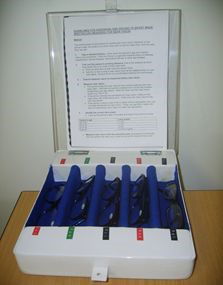 Presbyopic Community Based Eye Worker testing kit.