The literacy and numeracy levels are extremely low in disadvantaged urban and rural public schools. Once of the concerns identified by the Jonga Trustees was that no formalised eye health screening projects are in place in South Africa.
A pilot program was launched with Western Cape school health services in the Cape Matropole where relevant school nurses were trained by Jonga Trust to screen for eye health in learners. Where identified a mobile refraction team consisting of a qualified paediatric Optometrist and Ophthalmic dispenser are sent to the school to refract the children during school hours on the school premises. Being on location minimises the impact on the child's time away from the class room and the parents time away from work.
Due to the success of the program Jonga Trust wanted to expand the program to schools in the Cape Metro pole and outlying rural areas not covered by the school health services. These are severely disadvantaged and underfunded public schools. Jonga had to source other financial resources in the form of partnerships with the Ikanya school projects, L Abrahamson Trust, Ster Kinekor and Durbanville Rotary club.
In partnership with these organizations, Jonga Trust can now screen, refract and supply spectacles to the learners of some of these non-privileged schools. To further enhance the project and understand the impact of these services to education as a whole, Jonga Trust started a research project to establish the impact on the academic achievement of the learners and the school before and after the eye care services was rendered for a period of two years.
Some of the interesting, yet alarming, facts were children in Grade 4 to 6 with prescriptions ranging from -6.00D to as high as -16.00D without spectacles and one of the children in Gr 4 was referred to Ophthalmology for cataract extractions!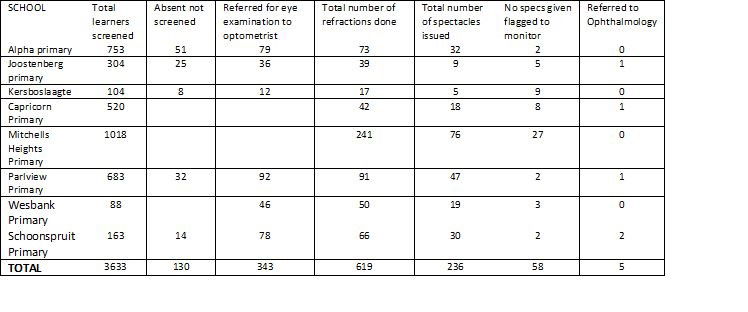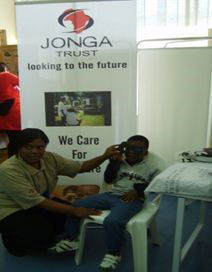 Jonga Trust Community based worker doing a visual acuity test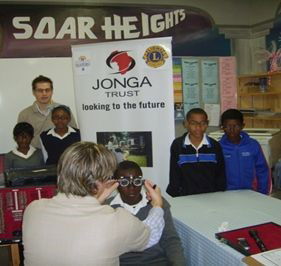 Jonga Trust Optometrist refracting a learner at Mitchel Heights Primary